Reminder: Charitable Organization Registration/Renewal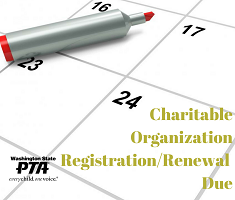 The Charitable Organization Registration/Renewal is due May 31, if your PTA/PTSA/council's Gross Receipts are greater than $50,000. When figuring the gross receipts for Charitable Organization Registration/Renewal all income and any source, without deduction-including the portion of membership fees collected by the PTA which are sent to a council or the State PTA are considered part of the gross receipts total.
---
Over $50,000
Is your PTA's total income (including membership fees sent to a council) $50,000 or more? If so, your PTA is required to be registered with the Secretary of State Charities Program.
Under $50,000
If your PTA's income is under $50,000, your PTA is encouraged to file the Optional Registration with the Secretary of State Charities Program.
Related Events
Washington State PTA strives to assure that all meetings and other activities of the Association are available for participation by all of its members, consistent with the Americans with Disabilities Act ("ADA") and the Washington State Law Against Discrimination (RCW 49.60).
Individuals requiring special accommodations to attend or participate in WSPTA meetings are requested to contact the office in advance: (253) 214-7410 or email.