Reflections
---
2020-2021 State-Level Winners Announced
The WSPTA Reflections Committee is pleased to announce the WSPTA Reflections finalists! Congratulations to all the winners! On May 1, National PTA announced the list of winners for the overall national competition. There were thirteen winners from Washington. You can see the full list of WSPTA and National PTA winners here.
---
Reflections Overview For Families and Students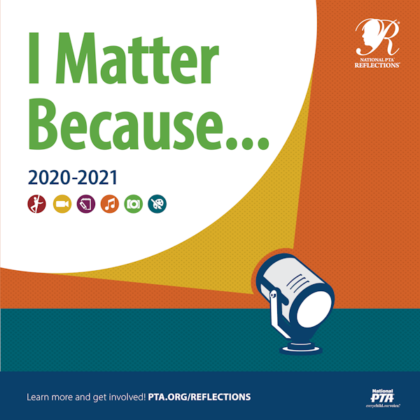 Welcome to the WSPTA Reflections program!
Reflections is a National PTA arts recognition program that helps students explore their own thoughts, feelings and ideas, develop artistic literacy, increase confidence, and find a love for learning that will help them become more successful not only in school, but in life.
Students in pre-K through grade 12 create original works of art in response to a theme. The theme for the 2020-2021 program year is I Matter Because… Students submit their completed works of art in one, or all, of the available arts categories: Dance Choreography, Film Production, Literature, Music Composition, Photography, Visual Arts.
Learn about how the theme was selected and how it can inspire young artists from National PTA President-Elect Anna King.
While the primary focus of Reflections is a celebration of creativity through positive recognition, finalists from local PTAs will move on to their council PTA (if applicable), then finalists from councils will move on to the state round. Washington State PTA finalists who receive an "Outstanding Interpretation" award will advance to the National PTA round. National PTA Reflections awards can be found here.
Young artists get involved by contacting their local PTA leaders. The deadline for turning in artwork to your local PTA will typically be in late autumn.
2020-2021 student entry packets are available below.  2019-2020 student finalists and a sampling of their work is located on the Student Showcase page.
Note: Local PTA and council leaders may find further information and resources on running the Reflections program here.
Young artists get involved through their local PTA or PTSA. A student may submit an entry in any of six arts areas. Only original works of art are accepted. The six art areas are:
Literature – works of fiction, nonfiction, poetry, prose, drama, short stories and lyrics.
Music Composition – original musical composition, with or without words.
Photography: color or black and white, included techniques: photogram, negative sandwich, and multiple exposure.
Visual Arts: drawing, painting in tempera, oil, acrylic, watercolor & t-shirt paints, computer generated art, two-dimensional collage, printmaking, needlework & leather tooling.
Film/Video: original works, with or without sound, of animation, narrative, documentary, experimental or music video/film.
Choreography/Dance: originally choreographed dance composition.
Participation is organized by student age and grade levels. Student works are critiqued against others in the same grade division. This allows recognition and judging of artworks by appropriate developmental age and skill levels. The grade divisions are:
Primary: Preschool – Grade 2
Intermediate: Grades 3 – 5
Middle School: Grades 6 – 8
High School: Grades 9 – 12
Entries are judged on creative ability and interpretation of the theme.
All PTAs/PTSAs in good standing may sponsor the program. Students may only submit entries through a PTA/PTSA. Parent groups not affiliated with the National PTA are not eligible to sponsor this program.
The National PTA special artist division is an option for students with a disability as defined under the Americans with Disabilities Act(ADA). Generally, rules and guidelines within the special artists division are intended to ensure accessibility to the National PTA Reflections® program and are modeled after the guidelines outlined in the Americans with Disabilities Act (ADA).
Complete details are included in the 2020-21 Special Artist Rules.
Each year, National PTA seeks a theme for the Reflections program year to be held two years from now. This year students were asked to submit a theme for the 2022-2023 program year. The due date for submitting a theme search entry was November 1, 2020. The student who submits the winning entry will receive $100 and his or her theme will be presented at the annual National PTA Convention in June 2021. Repeat themes will not be considered.
This year, WSPTA had 35 entries for the National Reflections Theme Search. Entries came in from all around the state. The Reflections Committee selected five entries and submitted them to National PTA. The students whose entries advanced to National PTA are:
Dharanidhrut Gowda, 2nd grader from Audubon PTSA 2.8.5 for "If earth had a reset button"
Marharyta Zvarydchuk 4th grader from Rose Hill PTSA 2.8.50 for "Life After…"
Raina Tuladhar 6th grader from Timberline Middle PTSA 2.8.82 for "A world where…"
Diya Modi 8th grader from Timberline Middle PTSA 2.8.82 for "Dear Future Me"
Maya Gheewala 10th grader from Sammamish HS PTSA 2.3.160 for "Infinity and Beyond"
Congratulations and good luck to our state finalists!
The next opportunity to participate will be in the Fall of 2021. Click here to see past themes.
Doing art activities together is a fantastic way for families to communicate and foster lifelong memories with one another. It's especially important to find unique ways to connect during the COVID-19 pandemic.
Would you like to be part of the WSPTA Reflections Committee? We are looking for members with local, council, or state Reflections experience to join the committee for 2020-21. Find out what happens to your students' art after you submit it and be a part of a program that serves all PTAs in Washington state! The committee is most active between January and May; tasks take place at convention and much can be done from home. Contact reflections@wastatepta.org.
Frequently Asked Questions
Who can enter the art program, Reflections®?
Reflections is a National PTA arts contest open to students in grades pre-K through 12th grade. Although membership in a PTA is not required to enter, a Reflections program is a benefit of attending a school where there is a PTA. Students must enter the contest through a local grade-equivalent school PTA in good standing. A local PTA may, but is not required to, accept entries from students who do not attend its particular school (i.e. home-school students or students from schools where there isn't a PTA).
Students who do not attend a PTA school, but wish to enter, should contact the Reflections chair at a grade-equivalent school PTA in their district, to ask if their entry will be accepted by that PTA.
Reflections entries by a student shall not be accepted if submitted directly to a PTA council, Washington State PTA, or National PTA.
What is the 2020-21 Reflections theme?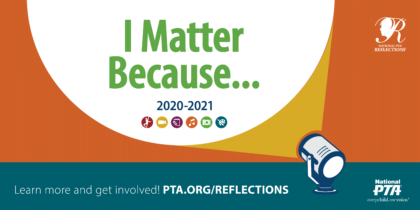 The 2020-21 Reflections theme is I Matter Because…
The theme is determined by National PTA. Students may find more information above under "Theme Search".
Learn about how the 2020-21 theme was selected and how it can inspire young artists from National PTA President-Elect Anna King.
Do children have to sign the entry form?
Yes. The entry form must be signed by the submitting student (even if it is only a printed first name) and the student's parent/guardian. If the student is at least 18 years old, only the student must sign.
What does "rigid backing" mean for visual arts and photography entries?
This means that the entry must be mounted in a way that it cannot be folded, rolled, or bent. Acceptable backing includes: foam core, press board, canvas board, cardboard (solid piece, no seams or folds), and thick mat board.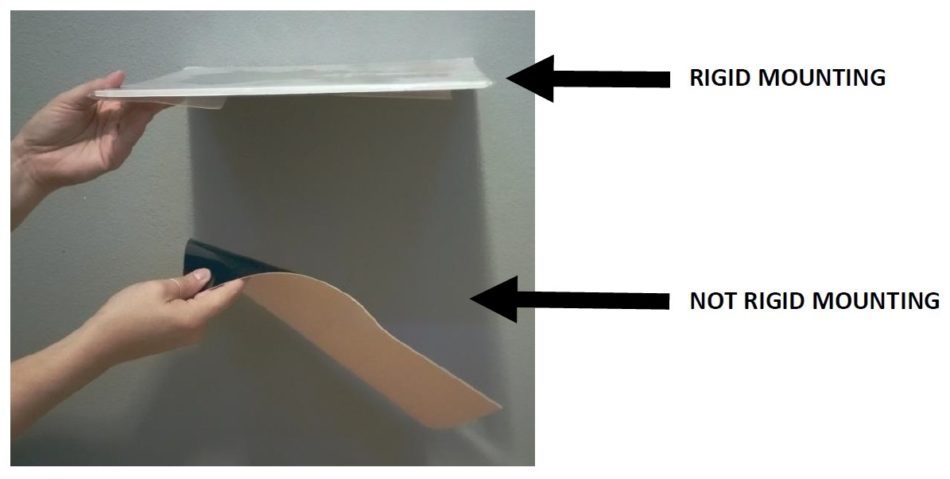 How do I submit a 3-D entry?
Check with your local PTA and council to find out if they would like the actual 3D piece or just pictures of the piece. If a 3D entry is moved on to the state-level, three photos mounted on a sturdy material are sent to represent that entry. Instructions for how to submit photos are found in the Visual Arts Student Entry Packet.
How should film and dance entries be submitted?
Film and dance entries must be submitted on a USB thumb drive. If you have a file to submit but cannot obtain a USB drive, let your PTA leader know. The USB drive should be placed in a re-closable manila envelope, with the entry form attached to the front in a page protector.
What are the recommendations for quality recordings?
Make the room you record in as quiet as possible. Close windows and turn off all noise-making devices in the room (air conditioners, fans, telephones, etc.). Do not place the recording device on top of an instrument or speakers. If needed, improve recording quality by changing the record volume or microphone location. Pay attention to what is behind the performer – make sure the background isn't distracting. If using a phone, record in landscape mode, not portrait mode.
Can more than one person create and submit the same entry?
Only one person can submit each entry. However, more than one person can perform in a dance, music or film creation, even though one person is the creator/submitting the entry.
How many entries can one student submit?
Students may submit in as many arts categories as they would like, however, only one entry per arts category is allowed.
What is considered copyrighted material, subject to disqualification?
An entrant may use copyrighted material in a Reflections® entry as long as that material is not the primary focus of the entry, or if the entrant is not trying to pass off the copyrighted material as his/her own creation.
For example, if a photograph is taken where someone is wearing a Mickey Mouse shirt, that entry is acceptable as long as the Mickey Mouse character is not the primary focus of the photograph. Even if the entrant takes a photograph of a family with Mickey Mouse at a theme park, that would still be an acceptable photograph if the subject of the photograph is the family and not the Mickey Mouse character. If an entrant creates an entry that includes Mickey Mouse as a primary subject in the artwork, that entry would be infringing on copyrighted material and would be disqualified.
If you have any questions, contact Lindsay Yost, WSPTA Reflections Chair at reflections@wastatepta.org.
Why are there so many rules? Isn't Reflections a program to encourage kids to be creative?
Since the primary goal of Reflections is to promote creativity, the program's rules create the necessary boundaries to allow judging, exhibits, and awards.
Most of the rules associated with the Reflections program have been developed to protect student creations once they've been turned in and provide the ability for artwork to be displayed. A handful of volunteers are tasked with moving large numbers of artwork from place to place, and we treasure each creation.