We are very excited to announce the launch of our new submission portal for awards of excellence, student programs, and the Reflections arts contest. This new system, powered by SM Apply, will be a simple and centralized home for most WSPTA programs moving forward.
Before 2020, WSPTA was still dependent on paper forms and physical media. Every spring our staff would process hundreds of parcels containing student artwork, printed essays, and an astounding number of local PTA award binders. When the demands of the COVID-19 pandemic slingshot us into the 21st century, we transitioned to digital submissions.
Now, equipped with lessons learned and a goal to make things easy and equitable, we have designed this new portal to streamline the application processes for our many programs. Applicants may now save and revisit draft applications. Reflections chairs can manage multiple students' submissions under one login. Gone are the myriad forms, random links to Dropbox or SharePoint, and onerous requirements for submitting artwork or media.
If you'd like to learn more about WSPTA's many awards and programs, click here.
Here's a quick tour of the new portal and a demonstration of how to get started
First, go to the awards portal homepage, located here.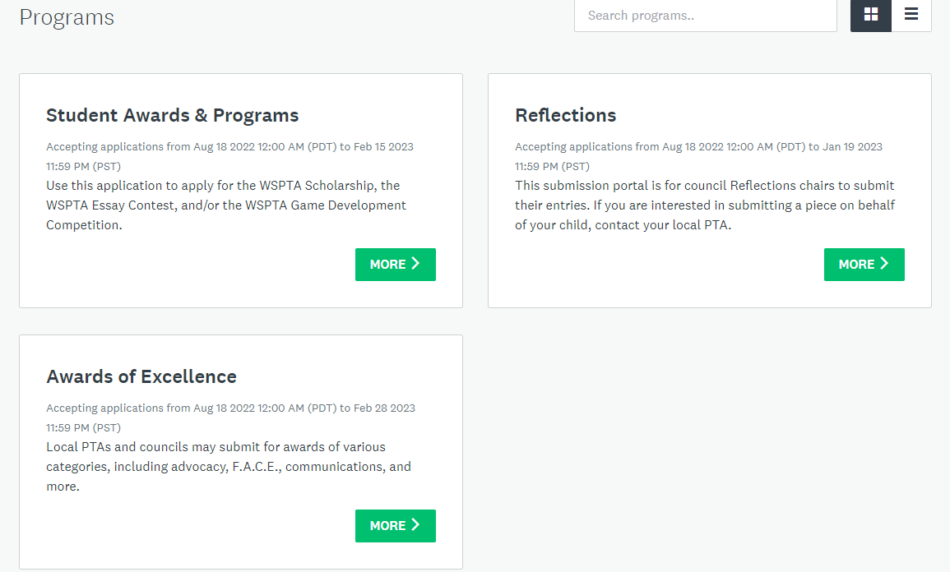 You will find capsules for each currently active program, featuring the submission timeframe, due date, and a brief description. Newly launched programs will join this list when their submission windows open, while closed programs will be removed after their respective deadline dates.
Click More> to access each program's individual submission portal.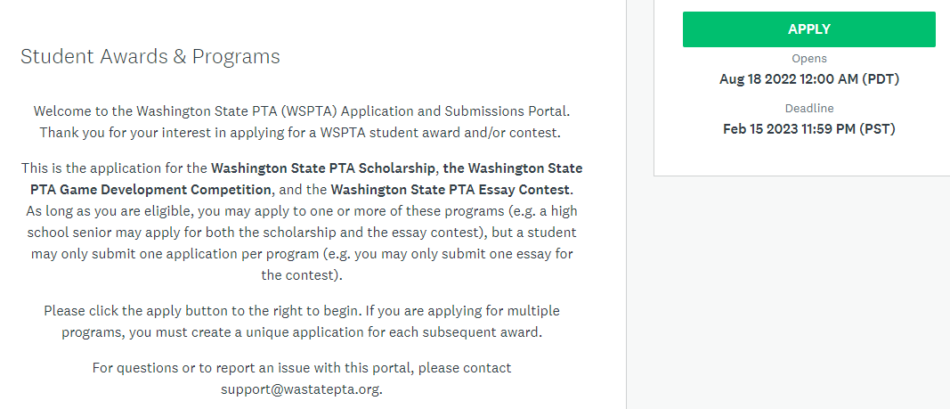 Above is the submission portal for Students Awards & Programs. This page includes application guidelines, special instructions, and who to contact if you have any questions. If you have one or more unfinished applications within any given program, links to those will appear on the right.
When you click Apply, you will be asked to log in or create an account with SM Apply.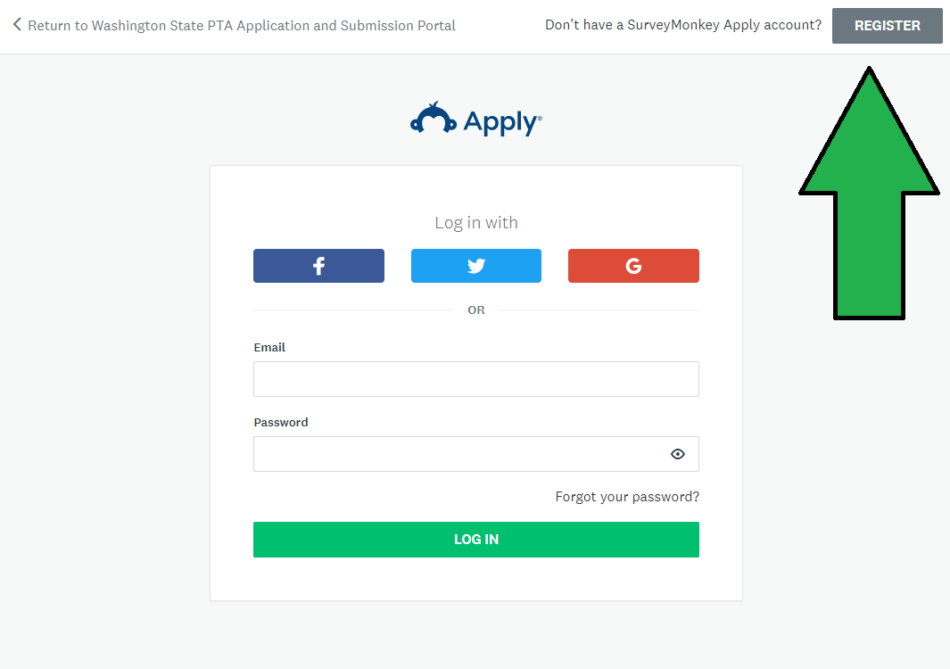 Click Register in the top right to create an account. You'll need to verify your email address before beginning an application.
A few quick notes on accounts:
Reflections chairs will only need one login to manage all their student applications.
Local PTAs and councils applying for awards of excellence may create one account for all their applications, and this account may be in the name of the PTA or the name of the program chair.
Students under the age of 18 must submit through a parent or guardian. Adults who submit an application on a student's behalf should set the account up in the adult's name.
Once your account has been created, you are ready to begin and submit an application. If you run into any issues or have any questions, please do not hesitate to reach out to support@wastatepta.org.