Support PTA
---
Join with over 80,000 of your fellow Washingtonians to help achieve Washington State PTA's vision of making every child's potential a reality. Your membership will support our many activities on behalf of children, including but not limited to the arts, scholarships, and advocacy at the state and national level.

Join a Local PTA/PTSA
If you would like to join a local PTA/PTSA, please visit the Find Your PTA page on our website.
To be a voting member, you must join a local PTA/PTSA directly.
Supporting Membership
Washington State PTA's Supporting Membership* is designed for:
People who may no longer be active at a local school or PTA but continue to be interested in children's issues
Friends of PTA such as business and community leaders
Grandparents, aunts, uncles, and friends
Current and potential sponsors and exhibitors wishing to further their support of PTA's mission.
And citizens across Washington who wish to have an impact on the lives of children in Washington by adding their voices to the tens of thousands of others in our state
Member Benefits and Discounts
Member discounts are offered to all WSPTA members. To take advantage of these discounts, go to the member discount codes page. Login using the username and password found in the welcome email attached to your membership card. Can't find this login? Email us at support@wastatepta.org.
As a WSPTA supporting member, you are also a member of National PTA where you will also enjoy resources and benefits of nationally recognized companies and organizations. A comprehensive list is available at PTA.org.
*WSPTA Uniform Bylaws defines Supporting Memberships in Article 4 Membership and Dues, Section Supporting Membership-WSPTA as "an individual who supports the purposes and basic policies of the National PTA and WSPTA may be a supporting member of WSPTA by paying dues directly to WSPTA. A supporting member has none of the rights of membership except as specified in these bylaws and may receive other benefits as prescribed by WSPTA policy. A supporting member may become a full member of WSPTA by additionally joining a local PTA.
Sponsorships
Sponsors help to offset the costs of WSPTA events and programs allowing members to receive benefits and cost-savings. If you are interested in sponsorship opportunities, please download the Sponsorship Prospectus or contact the WSPTA executive director.
---
This chart outlines the types of membership aligned with WSPTA.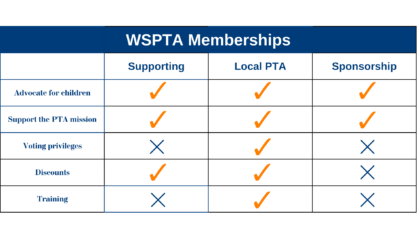 ---
Workplace Giving Programs
Washington State PTA members are encouraged to donate to PTA through workplace giving programs. Most major employers in our state have a program in place. Several local PTAs take advantage of them and regularly receive donation checks.
Washington State PTA is registered with and receives support from the Combined Fund Drive, a workplace giving program for active and retired public employees. We are also registered with Benevity, a giving program serving hundreds of corporations nationwide.