Reflections Program for Leaders
---
WSPTA Reflections Submission Review and Q&A Webinar (Updated 1/9/23)
On January 9, a webinar was held to go over the submission process for the Reflections program.  We recorded the event and you can watch the Reflections Washington State Submissions Review and Q&A on our Vimeo page.
---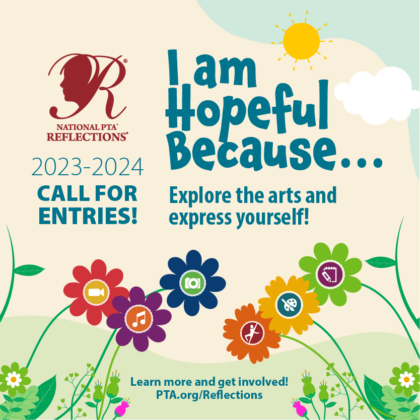 Thank you for volunteering to host a Reflections® program!
Reflections® is a National PTA and Washington State PTA arts recognition program for students in grades pre-K through 12. The program is structured for PTAs to celebrate and recognize students at the local, council, state, and national levels. All PTAs/PTSAs in good standing may sponsor the program. Students may only submit entries through a PTA/PTSA. Parent groups not affiliated with the National PTA are not eligible to sponsor this program.
Councils are required, per the WSPTA Standards of Affiliation agreement, to offer a Reflections® program for their local PTAs.
The due date for Reflections entries to be received by the WSPTA office for councils and non-council local PTAs is January 18, 2024, at 12:00 PM. Local PTAs that are part of a council will need to submit by their council's designated due date.
Program chairs of non-council PTAs and councils can access the submission form here. Local PTAs that are part of a council should contact their council for the requirements to enter their PTA's submissions.
Learn more about the awards submission system in this blog post.
Don't forget to register your PTA or Council Reflections program on the National Database at https://www.surveymonkey.com/r/23-24RefRegistration
QUESTIONS?
Contact the WSPTA Reflections Chair: reflections@wastatepta.org
RESOURCES
Local Leaders Training Video
On September 15, WSPTA Reflections committee members hosted a webinar training to help local leaders understand this year's program.
Frequently Asked Questions
Is the online process required?
Local PTAs and councils can host their program in person or virtual, but all state submissions will be virtual using the submission system.
When and where do I submit entries?
Each council sets its own deadlines. Contact your council to find out your deadline, and where to turn in your artwork.
The due date for Reflections entries to be received by Washington State PTA for councils and non-council local PTAs:
January 18, 2024
Please note: if your PTA is part of a participating council you must submit your entries to the council.
How many entries can we submit?
Local PTA (part of a council)
Contact your council for the number of entries allowed. Each council sets their own limit for the number of pieces each local PTA may advance.
Local PTA (NOT part of a council)
Eight total entries or 10% of total entries received (whichever is greater).
Six additional special artist entries.
In addition, be aware that multi-grade level PTAs (for example K-8), may submit 8 entries for K-5th grade, 8 entries for 6-8th grade, and 8 entries for 9-12th grade.
Use the following guidelines for submission percentages (getting as close as you can based on the number of submissions you have):
Category Guidelines
Visual Arts
No more than 30%
Photography
No more than 20%
Literature
No more than 20%
Dance, Film, and Music
No more than 30%

Council PTA
The following chart shows the number of entries that may be submitted to WSPTA based on the number of PTAs participating in the Reflections program within your council:

How do I know if my PTA is part of a council?
Contact your PTA president, region director, or the WSPTA office.
Where do I find my PTA's state and national ID numbers?