WSPTA Officer Nominations
---
Washington State PTA is seeking individuals of varied backgrounds and experiences to reflect the population of our state.
During the 2021 convention of the Washington State PTA, May 21-23, 2021, currently scheduled at the Lynnwood Convention Center, positions for nine state-wide officers and five area vice presidents will be elected for a two-year term, 2021-2023.
It is the responsibility and privilege of PTA members, local PTAs, and councils to consider the qualifications of eligible members and to submit recommendations to the Washington State PTA Nominating Committee. You may self-nominate or nominate an individual you believe to be qualified to serve.
Nominations will be accepted up until 11:59 pm on November 15, 2020, as reflected on the respective WSPTA systems.
Members should complete a separate online nomination form for each nomination they wish to make.
---
Additional Information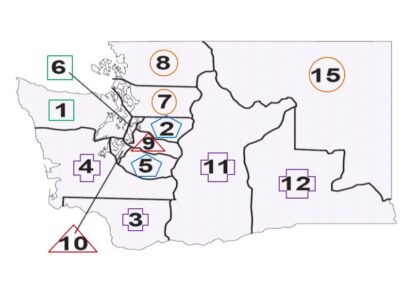 Additional information about the regions is located on the PTA Regions page.
Qualifications for each position are detailed in the WSPTA Uniform Bylaws. In addition, each position has basic functions, duties, responsibilities, and authority. The full list of job descriptions is available here.
Further information is available in WSPTA Policy.
The officer elections will take place during the WSPTA annual meeting at the convention on May 21-23, 2021 currently scheduled at the Lynnwood Convention Center.
To help delegates make an informed decision about their vote, candidate information will be located on the website prior to the convention. Campaign boards will be provided by WSPTA and located in public areas of the convention center during the convention. And, opportunities for delegates to hear from each candidate will be provided through some combination of speeches, candidate forum, or networking areas.
Elections Oversight Committee
The Elections Oversight Committee (EOC) oversees the election process. The committee shall review all materials for compliance with WSPTA Policy. All concerns raised during the election period shall be directed to the EOC chair.