Reflections Finalists
---
2020-2021 State-Level Winners Announced
The WSPTA Reflections Committee is pleased to announce the WSPTA Reflections finalists! Congratulations to all the winners from Washington! On May 1, National PTA announced the list of winners for the overall national competition. There were thirteen winners from Washington. You can see the full list of National PTA winners here.
A special congratulations to Johan Novak from Odle Middle School PTSA for receiving the Outstanding Interpretation Award in the category of Music Composition with his piece titled "Legacy". Only one student per category, across all PTAs, is selected to receive the Outstanding Interpretation Award. He will be receiving an $800 scholarship to further his artistic talents and the PTA will receive $200 to support arts and culture in their community.
View the showcase videos (Part I and Part II) shown at the 2021 WSPTA annual convention during general sessions.
Dance Choreography
High School (Grades 9-12)
Outstanding Interpretation – Aashika Vishwanath – I'm Who I Am and I'm Complete – Issaquah High PTSA 2.6.45
*National PTA Award of Excellence*
Award of Excellence – Tanushri Narendran – Devi, the embodiment of femininity – Interlake High School PTSA 2.3.150
Award of Merit – Makenzie Rogers – Be Brave – Woodinville High PTA 6.10.85
Middle School (Grades 6-8)
Outstanding Interpretation – Maya Gibbins – Remix and Flow – The Middle Schools of Tahoma PTA 9.14.40
Award of Excellence – Ambika Shastry – It's Time To Make A Change – Odle Middle PTSA 2.3.130
Award of Merit – Priyanka Kudallur – The Power Within – Timberline Middle PTSA 2.8.82
Intermediate (Grades 3-5)
Outstanding Interpretation – Trisha Shrestha – I matter to my family and society – Forest View PTA 7.3.7
*National PTA Award of Excellence*
Award of Excellence – Elleanna Smith – How many more times – Sartori Elementary PTA 9.11.25
Award of Merit – Rayna Jaisalmeria – Namaskar! – Rosa Parks PTA 2.8.43
Primary (Pre-K through Grade 2)
Outstanding Interpretation – Charis Balaranjith – PEACE☮ – Margaret Mead Elementary PTSA 2.8.38
Award of Excellence – Anastasiia Kozlova – Dance Improvisation – Wilburton Elementary PTA 2.3.15
Award of Merit – Amelia Harrell – Seasons of Love – Martin Sortun PTA 9.7.72
Film Production
High School (Grades 9-12)
Outstanding Interpretation – Sydney Smith – A letter to my younger self – Ballard High PTSA 6.15.460

Award of Excellence – Rebecca de Broglio – Monsters are real – Bellevue High School PTSA 2.3.148
Award of Merit – Caleb Fruge – Spite – Tahoma High PTA 9.14.50
Middle School (Grades 6-8)
Outstanding Interpretation – Victoria Damianova – People Matter in Their Own Ways – Beaver Lake Middle PTSA 2.6.33

Award of Excellence – Lauren Atherton – Simple Acts – Kellogg Middle PTSA 6.12.85
Award of Merit – Ava Zhang – She Matters – Islander Middle PTSA 2.9.37
Intermediate (Grades 3-5)
Outstanding Interpretation – Arianna Zhao – A better planet because of me – West Mercer PTSA 2.9.35
*National PTA Award of Merit*

Award of Excellence – Colby Smith – Lego world animation – Lake Hills Elementary PTA 2.3.55
Award of Merit – Cella Ritter – Can I Play? – Mullenix Ridge PTA 1.8.8
Primary (Pre-K through Grade 2)
Outstanding Interpretation – David Darboe – Homework Problem – Highland Elementary PTA 7.6.18
*National PTA Award of Excellence*
Award of Excellence – Olivia Effendie – A Seed of Love – Tambark Creek PTSA 7.3.12
Award of Merit – Lily Li-Nagy – My goodmother – Endeavour Elementary PTA 7.5.8
Literature
High School (Grades 9-12)
Outstanding Interpretation – Rebecca de Broglio – Dancing Through the Shadows – Bellevue High School PTSA 2.3.148
*National PTA Award of Excellence*
Award of Excellence – Elani Rocker – Why I Matter – Skyline High PTSA 2.6.70
Award of Merit – Jingyi Yang – Yellow – Mercer Island High PTSA 2.9.50
Middle School (Grades 6-8)
Outstanding Interpretation – Sudhir Chebiyyam – Thoughts on the chaos known as 2020 – Gateway Middle PTSA 7.3.72
Award of Excellence – Angelina Vaughn – I Matter. – Kellogg Middle PTSA 6.12.85
Award of Merit – Sally Rose Davis – The result of friendship – Issaquah Middle PTSA 2.6.35
Intermediate (Grades 3-5)
Outstanding Interpretation – Emilie Jones – The Last Tree – Cedar Wood PTA 7.3.3
Award of Excellence – Divisha Arora – I MATTER BECAUSE – Endeavour PTA 2.6.20
Award of Merit – Adelayda Cruz – Lopez – You Still Matter! – Odyssey Elementary PTA 7.5.12
Primary (Pre-K through Grade 2)
Outstanding Interpretation – Tvesha Joshi – Why do I matter? – Ella Baker Elementary PTSA 2.8.28
*National PTA Award of Excellence*
Award of Excellence – Saatvik Mehta – Make A difference – Samantha Smith Elementary PTA 2.8.57
Award of Merit – Sri Vadlamannati – I am the Future – Island Park PTSA 2.9.15
Music Composition
High School (Grades 9-12)
Middle School (Grades 6-8)
Intermediate (Grades 3-5)
Primary (Pre-K through Grade 2)
Photography
High School (Grades 9-12)
Outstanding Interpretation – Amelie Barga – Looking Within – Lake Washington High PTSA 2.8.95
Award of Excellence – Alison Kim – Special – Henry M Jackson High PTSA 7.3.95
Award of Merit – Carlos Adrian Datol – Who I Am – Lake Washington High PTSA 2.8.95
Middle School (Grades 6-8)
Outstanding Interpretation – Chloe Manningsmith – When the Shoe Fits – Pine Lake Middle PTSA 2.6.42
Award of Excellence – Elizabeth Miller – The Big Picture – Northshore Middle PTSA 6.10.67
Award of Merit – Lekha Dhaka – The Matter of Me – Eckstein Middle PTSA 6.15.380
Intermediate (Grades 3-5)
Outstanding Interpretation – Ella Ragoler – Shadow Leaves – Samantha Smith Elementary PTA 2.8.57
Award of Excellence – Aidan Kruper – i Matter – Creekside PTSA 2.6.4
Award of Merit – Amelia Lucas – Teaching to Read – Picnic Point PTA 7.5.17
Primary (Pre-K through Grade 2)
Outstanding Interpretation – Etcher Maldonado – "Birds, Birds, Birds" – Hazelwood PTA 9.11.30
*National PTA Award of Merit*
Award of Excellence – Isabel Wynn – The Star – Lake Hills Elementary PTSA 2.3.55
Award of Merit – Ashlyn Blandino – Magic world  – Mullenix Ridge PTA 1.8.8
Visual Arts
High School (Grades 9-12)
Outstanding Interpretation – Amelie Fry – Portrait of an Artist Who Matters – Bothell HS (ILHS) PTA 6.10.70
*National PTA Award of Excellence*
Award of Excellence – Eliana Megargee – Beautiful. – Shorewood High PTSA 6.12.105
Award of Merit – Ashley Lee – Stay – Newport High School PTSA 2.3.155
Middle School (Grades 6-8)
Outstanding Interpretation – Aurelia Zhou – Everyone Matters to Protect the Environment – Kirkland Middle PTSA 2.8.77
Award of Excellence – Heero Lim – Unlimited Possibilities – Islander Middle PTSA 2.9.37
Award of Merit – Katie Rittenberg – A Simple Gesture – Timbercrest Middle PTSA 6.10.68
Intermediate (Grades 3-5)
Outstanding Interpretation – Nancy Chen – I matter, because… – Rose Hill Elementary PTA 2.8.50
*National PTA Award of Excellence*
Award of Excellence – Elena Abbasi – I matter because – Issaquah Valley PTA 2.6.11
Award of Merit – Colton Crumley – The best banana in the bunch – Hunt PTA 5.7.17
Primary (Pre-K through Grade 2)
Outstanding Interpretation – Quinlan Tian – I Love – Louisa May Alcott Elementary PTSA 2.8.3
*National PTA Award of Excellence*
Award of Excellence – Evelyn Henry – I'm Unique and Special – Tambark Creek PTSA 7.3.12
Award of Merit – Amy Hu – I Matter Because I Care – Audubon PTSA 2.8.5
Special Artist (all grades)
Outstanding Interpretation – Aiden Van Lith – River at Dusk – Bellevue International School PTSA 2.3.121
Award of Excellence – Mclntyre "Maci" Cuthill – I am My Own Person – Newport High PTSA 2.3.155
Outstanding Interpretation – Sean Atwood – I matter, You matter – Skyview Middle School PTSA 6.10.69
Award of Excellence – Amelia Struthers – A Thanksgiving Dinner – John Sedgwick PTSA 1.8.15
Award of Merit – Hishaam Makhdoomi – Rays of Hope – Apollo PTA 2.6.3
---
2019-2020 Reflections Finalists
Theme: Look Within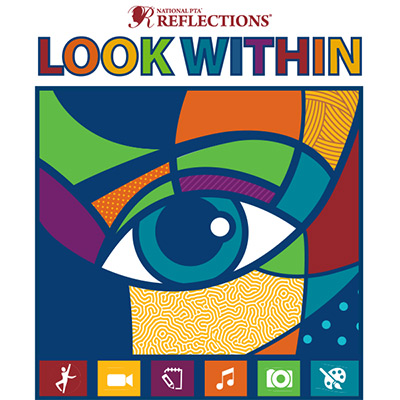 Dance Choreography
Dance Choreography 2019-2020
High School (Grades 9-12)
Outstanding Interpretation – Alison Prekeges – Unknown Demons – Eastlake High PTSA 2.8.88
Award of Excellence – Makenzie Rogers – My Journey to Finding Myself – Woodinville High PTA 6.10.85
Middle School (Grades 6-8)
Outstanding Interpretation – Dasha Velushchak – Look Within – International Community School PTSA, 2.8.89
Award of Excellence – Chloe Manningsmith – Fault in My Code – Pine Lake Middle PTSA, 2.6.42
Award of Merit – Ambika Shastry – Progression Towards My Goal – Odle Middle PTSA, 2.3.130
Intermediate (Grades 3-5)
Outstanding Interpretation – Dakota Frederick – It's Within Me to Fly – Tehaleh Heights Elementary PTA, 5.8.5
*National PTA Award of Merit*
Award of Excellence – Trisha Shrestha – Nepali-Newar Caste Girl-Looks Within to Find Inner Beauty – Forest View PTA, 7.3.7
Award of Merit – Sawyer Chapman – Better Dancin' – Emily Dickinson PTSA, 2.8.13
Award of Merit – Gabriel Soltz – Inside Out – Jefferson PTA, 10.9.100
Primary (Pre-K through Grade 2)
Outstanding Interpretation – Kareli Dotson – Lost Girls – H.D. Thoreau PTA, 2.8.60
Award of Excellence – Elizabeth Diana – Look Within to Be Brave – Margaret Mead PTSA, 2.8.38
Award of Merit – Emma Mays – For the Love of Dance – Elk Plain PTA, 5.3.10
Film Production
Film Production 2019-2020
High School (Grades 9-12)
Outstanding Interpretation – Ryan Hu – If Only I Could – Skyline High School, 2.6.70
Award of Excellence – Samuel Miller – Do Not Go Gentle Into That Good Night – Lake Washington High School PTSA, 2.8.95
Award of Merit – Abby Kerbyson – Beautiful – Hanford Secondary, 12.5.45
Middle School (Grades 6-8)
Outstanding Interpretation – Ty Johnson – Now This is Cool – Nelsen Middle School PTSA, 9.11.100
*National PTA Award of Merit*
Award of Excellence – Charlotte Emily Gruian – Made With Love – Inglewood MS PTSA, 2.8.73
Award of Merit – Ellis Ramos – A Swimmer's Story – Fairwood PTSA, 9.7.15
Award of Merit – Toko Ryu – The Box – Pacific Cascade Middle PTSA, 2.6.41
Intermediate (Grades 3-5)
Outstanding Interpretation – Samuel Watkins – Look – Endeavour Elementary PTA, 7.5.8
Award of Excellence – Michael Fowler – Look Within – Endeavour PTSA, 2.6.20
Award of Merit – Saanvi Shah – Look Within the Ocean – Bear Creek Elementary PTA, 6.10.6
Primary (Pre-K through Grade 2)
Outstanding Interpretation – Ilan Rao – Todo Sobre Mi – Sunset/Puesta Del Sol PTA 2.3.95
Award of Excellence -Grady DeLong – Look Within Your Mind – Tehaleh Heights Elementary PTA, 5.8.5
Award of Merit – Calvin McCumber – Emotion and Body – North Hill PTSA, 9.5.127
Literature
High School (Grades 9-12)
Outstanding Interpretation – Abby Kerbyson – Uncertain Waters – Hanford Secondary PTSA, 12.5.45
Award of Excellence – Sophie L. Smith – Tear Yourself from the Mirror – Inglemoor High PTSA, 6.10.75
Award of Merit – Adya Mohapatra – I'll Write the Future for Us – Issaquah High PTSA, 2.6.45
Middle School (Grades 6-8)
Outstanding Interpretation – Ava Robertshaw – The Unexplainable Things – Leona Libby Middle School PTSA, 12.5.40
Award of Excellence – Rebecca de Broglio – Looking Within Hunger – Islander Middle PTSA, 2.9.37
Award of Merit – Anshika Rath – A Journey of a Lifetime – Pine Lake Middle PTSA, 2.6.42
Intermediate (Grades 3-5)
Outstanding Interpretation – Katerina Kalinchenko – Shattered – Challenger PTA, 2.6.6
*National PTA Award of Excellence*
Award of Excellence – Austin Liu – Finding Yourself – Endeavour PTSA, 2.6.20
Award of Merit – Harini Sathishkumar – Artistic – Tambark Creek PTSA, 7.3.12
Award of Merit – Kirill Kadach – Drawing a Picture – Albert Einstein PTSA, 2.8.24
Primary (Pre-K through Grade 2)
Outstanding Interpretation – Hailey Evans – Look Within a Book – Tambark Creek PTSA, 7.3.12
Award of Excellence – Chloe Penelope Ritter – The Fairy Land Adventure – Mullenix Ridge PTA, 1.8.8
Award of Merit – Emma Fu – Penguins: Look Within Our Home – Rosa Parks PTA, 2.8.43
Music Composition
Music Composition 2019-2020
High School (Grades 9-12)
Outstanding Interpretation – Zihan (Jonathan) Sun – Identity – Bellevue High PTSA, 2.3.148
*National PTA Award of Merit*
Award of Excellence – Sarah Epley – Within Reach – Woodinville High PTSA, 6.10.85
Award of Merit – Neeka Ghazanfarpour – Yin and Yang – Inglemoor High PTSA, 6.10.75
Middle School (Grades 6-8)
Outstanding Interpretation – Max Germann – Impossible – Whitman Middle PTSA, 6.15.455
Award of Excellence – Ian LaFontaine – That's Not All – Vancouver School/Arts & Academics PSTA, 3.7.110
Award of Merit – Anvika Singhal – The Postcard – Kirkland Middle PTSA, 2.8.77
Award of Merit – Kimiya Esfandi – Serene – Kamiakin Middle PTA, 2.8.75
Intermediate (Grades 3-5)
Outstanding Interpretation – Maia DeClark – Inside Your Heart – H.D. Thoreau PTA, 2.8.60
Award of Excellence – Mareike Elliott – Look Within Me – Thurgood Marshall PTA, 6.15.75
Award of Merit – Milann Miller – Be the Best of You! – J.P. Stewart PTA, 5.7.55
Award of Merit – Katie Chandrabalan – Who You Are – Endeavour Elementary PTA, 7.5.8
Primary (Pre-K through Grade 2)
Outstanding Interpretation – Anna Kamp – Look Within – Eismann Elementary PTSA, 5.8.25
Award of Excellence – Pranit Pradeepkumar – "Luke" Within – Northwood PTA, 5.7.40
Award of Merit – Jonas R. Abazari – Heavenly – Tambark Creek PTSA, 7.3.12
Photography
High School (Grades 9-12)
Outstanding Interpretation – Benjamin Eskenanzi – Submerged in Self-Reflection – Issaquah High PTSA 2.6.45
*National PTA Award of Merit*
Award of Excellence – Alice Le – Within Every Story – Henry M Jackson High PTSA 7.3.95
Award of Merit – Stephanie Ryder – Light in the Eyes – Olympic High School 1.3.60
Middle School (Grades 6-8)
Outstanding Interpretation – Micah Kurland-Cohen – Ella With Paint – Hazel Wolf K-8 PTSA, 6.15.24
*National PTA Award of Merit*
Award of Excellence – Shreemoyee Debnath – Environment Activist – Odle Middle School PTSA, 2.3.130
Award of Merit – Taylor Draper – Beauty Within – Lake Forest Park PTA, 6.12.40
Award of Merit – Vivian Van Buren – Inside Spokane – Greenacres Middle School PTA, 15.2.60
Intermediate (Grades 3-5)
Outstanding Interpretation – Khai McMullan – Think Inside the Box – West Mercer PTSA, 2.9.35
Award of Excellence – Molly Cunningham – The Lion in the Mirror – Grass Lake Elementary, 9.7.20
Award of Merit – Claire Hoyner – The Veins of a Leaf – Silver Ridge PTA, 1.3.22
Award of Merit – Ayne Kim – Inner Beauty – H. D. Thoreau PTA, 2.8.60
Primary (Pre-K through Grade 2)
Outstanding Interpretation – Riley Cole – The Last Thanksgiving at Grandma's House – Mullenix Ridge PTA, 1.8.8
*National PTA Award of Excellence*
Award of Excellence – Adrian Serrano-Lopez – Looking Within the Survival of Nature – Cedar Wood PTA, 7.3.3
Award of Merit – Cooper O'Rourke – Don't Judge People by Their Skin – Franklin PTA, 15.6.10
Visual Arts
High School (Grades 9-12)
Outstanding Interpretation – Zitong Wang – Memories – Mercer Island High PTSA, 2.9.50
*National PTA Award of Excellence*
Award of Excellence – Thea Jacobsen – A Study in Blue – Shorewood HS PTSA, 6.12.105
Award of Excellence – Sophia Ling – unRE:al – Tesla STEM PTSA, 2.8.105
Award of Merit – Kayley Carter – Who You Are – Olympic High PTSA, 1.3.60
Award of Merit – Lina Chai – Nightlight – Tesla STEM PTSA, 2.8.105
Middle School (Grades 6-8)
Outstanding Interpretation – Charlotte Park – Speechless – Beaver Lake Middle PTSA, 2.6.33
*National PTA Award of Merit*
Award of Excellence – Joie Tung – Monsters of the Mind – North Lake Middle PTSA, 7.6.62
Award of Excellence – Michelle Li – Living in the Same World? – Northshore Middle PTSA, 6.10.67
Award of Merit – Tiffany Tu – Look Within – Cotton Crimes – Redmond Middle PTSA, 2.8.80
Award of Merit – Katie Kim – The Suffocating Anxieties Dwelling in the Deep Abyss – Tyee Middle School, 2.3.145
Intermediate (Grades 3-5)
Outstanding Interpretation – Nancy Chen –Look Within the Hidden World – Rose Hill PTA, 2.8.50
Award of Excellence – Rachel Sim – Helping or Hurting? – Browns Point PTA, 10.9.50
Award of Excellence – Annika Bos – Look Within to See Something Different – Adams Elementary PTA, 6.15.20
Award of Merit – Lanxin Yan – Dreamland – Fernwood Elementary PTSA, 6.10.16
Award of Merit – Jingqi Li – Street View – Bellevue Mandarin Dual Language PTSA, 2.3.170
Primary (Pre-K through Grade 2)
Outstanding Interpretation – Jeffrey Yu – Better Home – Medina PTSA, 2.3.57
*National PTA Award of Excellence*
Award of Excellence – Siran Cao – Narwhal – Tambark Creek PTSA, 7.3.12
Award of Excellence 3D – Harrison Taljeh – My Feelings Within – Eagle Rock Multi-Age PTA, 2.16.12
Award of Merit – Pranav Deepak – Look Within – Briarwood PTA, 2.6.5
Award of Merit 3D – Noah Lee – My Greatness and Sadness – Endeavour Elementary PTA, 7.5.8
Special Artist (all grades)
Special Artist (all grades) 2019-2020
Music
Outstanding Interpretation – Tanner Kim – Grumbling Song the Old Troll – Everett Special Education PTSA, 7.3.110
Literature
Outstanding Interpretation – Jack Cassidy – Doing Something With My School Friends – RE Bennett Elementary PTSA, 2.3.22
Photography
Outstanding Interpretation – Anthony Schmidt – Stuck in the Mud – Timbercrest Middle PTSA, 6.10.68
*National PTA Award of Excellence*
Award of Excellence – Amberlyn Church – A Home from Destruction – Brouillet Elementary PTA, 5.7.2
Award of Excellence – Carter Young – Eye Into the Soul – Browns Point Elementary, 10.9.5
Award of Merit – Emma Lee Allen – See Me – Thompson Elementary PTA, 5.3.20
Award of Merit – Kenlee Schleicher – My Voice – Pioneer Valley PTA, 5.3.16
Visual Arts
Outstanding Interpretation – Adaline McDowell – Potential Within – The Middle Schools of Tahoma PTA, 9.14.40
Award of Excellence (6-12th) – Landyn Zyskowski – My Salmon – Heatherwood Middle PTA, 7.3.71
Award of Excellence (Pre-K-5th) – Kian Snider – Looked Within: The Colors of My Soul – Penny Creek PTA, 7.3.42
Award of Merit (6-12th) – Daniel Sabol – My Mind With Autism – Timbercrest Middle PTSA, 6.10.68
Award of Merit (Pre-K-5th) – Victoria Karafezov – (Abstract) Pumpkin – Challenger PTA, 2.6.6