WSPTA Game Development Competition
---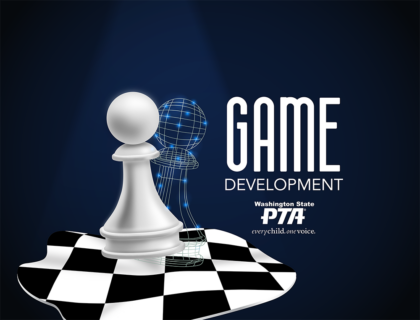 The WSPTA Game Development Competition has been discontinued. Thank you to all of the students and volunteers who participated over the years. Past winners of the competition are featured on the Student Showcase page.
The WSPTA Game Development Competition is a STEM-based program, introduced in 2016, to encourage and support student success. Students attending a middle or high school with a PTA/PTSA in good standing may participate and share their knowledge and creativity based on an assigned theme.
The purpose is to provide an opportunity for students, either individually or in teams of up to five members, to use their creative talents and express themselves by developing a game, either a physical board game or a computer game. Students' submissions are judged in the following areas: best board game, best computer game, arts and animation, game design, programming (code), and audio design.
To ensure all students have an equal opportunity to participate (regardless of access to computers and programming classes) a new category, best board game, was added in 2020. Students may now enter by creating a board game (this includes card games) so no prior knowledge of programming is required. All students will be able to showcase their creativity, determination, and game design skills.
The theme for the 2022-2023 competition is Curiosity.
"We keep moving forward, opening new doors and doing new things, because we're curious and curiosity keeps leading us down new paths." -Walt Disney
The application deadline for the 2022-2023 year has closed. The 2023 Essay, Game Development and Scholarship Awards Celebration was held on April 24, from 6:30 – 8:00 PM.
Registration - Submittal Process
Questions? Email the Game Development Competition chair.