by, Laura Peterson, committee chair
For the fourteenth year, Washington State PTA conducted a statewide essay contest so that young people could describe, from their unique perspectives, how males in their lives make positive differences for them. Essays were scored based upon the Common Core Standards for Writing and by content of the essay. We had 56 entries this year.
Winner of the Kindergarten division is Rayna Jaisalmeria from Rosa Parks PTSA 2.8.43 in Redmond. Her essay titled "My Big Brother's Essay" described the impact her brother has on her life.
Winner of the 1st – 2nd grade division is Elizabeth Knill, a 2nd grader from Penny Creek PTA 7.3.42 in Everett. Her essay titled "My Tribute to Frans" honored a classmate's grandpa that made a significant impact in the lives of all the students in their class.
Winner of the 3rd -5th grade division is Yvonne Pan, a 5th grader from Cedar Wood PTA 7.3.3 in Mill Creek. Her essay "The Greatest Teacher" paid tribute to the important life lessons her teacher, Mr. Pappas taught her.
Winner of the 6th-8th grade division is Sruttika Srinivasa, an 8th grader from Leota Middle School PTSA 6.10.65 in Woodinville. Her essay "Making My Future Mine" was dedicated to the most influential person in her life, her dad.
Winner of the 9th-12th grade division is Sam Hollenbeck an 11th grader from Inglemoor High School PTSA 6.10.75 in Kenmore. His essay "Reeling Lessons From My Role Model" recognized the value of meaningful conversations with his dad while fishing.
Thank you to all the students who participated in this wonderful program. WSPTA loves recognizing our student's  amazing talents. We loved reading your essays and encourage you to continue to write. Finally, a big thank you to all the males out there, whose involvement inspires our children to create such fantastic essays.
For more information about this program visit the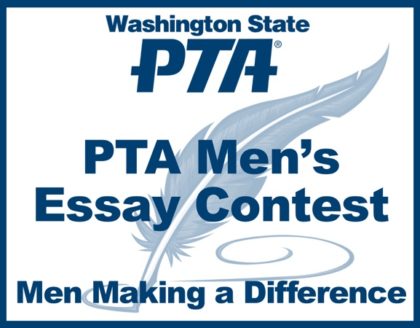 Men's Essay webpage.