by, Laura Peterson, committee chair
For the fifteenth year, Washington State PTA conducted a statewide essay contest so that young people could describe, from their unique perspectives, how males in their lives make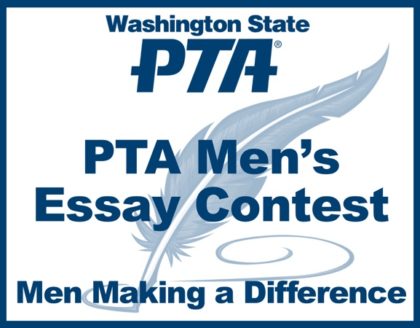 a positive difference.
Essays were scored based upon the Common Core Standards for Writing and by content of the essay.
In the Special Author Division, Ernie Walter, a 4th grader at Norman Rockwell PTA 2.8.47, with his essay "My Grandpa".
In the Kindergarten division, Aishwarya Anandh, from Norman Rockwell PTA 2.8.47, with her essay "My Brother".
In the 1st – 2nd grade division, Shaivi Murthy, a 2nd grader from Fernwood PTSA 6.10.16 with her essay "My Dad is My Hero".
In the 3rd -5th grade division, Mya Cato, a 5th grader from Silver Firs PTA 7.3.44 with her essay "A Simple Life That Makes A Difference"
In the 6th-8th grade division, Diya Kamboj a 7th grader from Heatherwood PTA 7.3.71 with her essay "I Treasure My Grandfather".
In the 9th-12th grade division, Aashika Vishwanath, a 9th grader from Issaquah High School PTSA 2.6.45, with her essay "Moves That Matter".
Thank you to all of the students who participated in this program. And, thank you to all of the males in our children's lives making such positive connections and inspiring our children to create such fantastic essays. WSPTA loves recognizing our student's amazing talents. We loved reading the essays and encourage all to continue writing.
For more information about this program visit the Men's Essay webpage.