Legislature expected to act quickly in 60-day session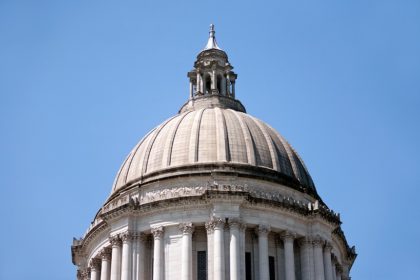 Prepared by Marie Sullivan, WSPTA Legislative Consultant, legconsultant@wastatepta.org
The second year of the 66th Legislature will convene Monday, January 13, with Democrats holding the Governor's office and majorities in the House and Senate. The Senate will swear in one new member, Republican Ron Muzzall of Whidbey Island, who replaced former 10th district Senator Barbara Bailey. Bailey resigned effective October 1. In addition, the House will swear in several new members due to resignations and will elect a new Speaker of the House for the first time in 20 years. Speaker-Designee Laurie Jinkins of Tacoma was elected by her Democratic colleagues last July, but the full House will vote on her as speaker Monday. She will be the first woman and first open lesbian to serve as speaker of the House in Washington state. Jinkins was elected to the House in 2010.
This 60-day session will be fast-paced, and legislators look poised to take bill action this week, with the Senate calling a meeting of the Rules Committee on Monday. The legislature will convene Tuesday, January 14 for a joint session to hear Governor Jay Inslee's State of the State address. Inslee released his supplemental budgets December 18, 2019, and is expected to talk about issues he hopes the legislature will address this session, including affordable housing, homelessness, climate change, and early learning.
Legislative committees have scheduled a packed week of work sessions and public hearings, starting Monday with the Governor's budget proposals and continuing throughout the week with policy issues that run the spectrum. Because this is the second year of the biennium, all bills introduced in 2019 but not enacted are eligible to be put in play in 2020. In addition, legislators who want to get a jump on the short session can "pre-file" a bill; by Friday nearly 450 bills had been pre-filed (219 in the House and 214 in the Senate). Keep in mind that policy committees typically will have 12 two-hour meetings to hear and act on all the bills from last session they want to consider and any new bills before February 7, the first cutoff.
Read the full report here including what to expect this session.
Keep up with the bills and committee hearings related to WSPTA member-generated legislative priorities and long-term positions by utilizing the WSPTA Bill Status Report. And, for a quick look at what is happening the week of January 13, click here.
Sign up here to receive action alerts and take part in grassroots advocacy. As WSPTA priority bills are being considered we may ask our members to contact their legislators by sending an action alert notice to you prefilled with a message that will be sent directly to your legislators.