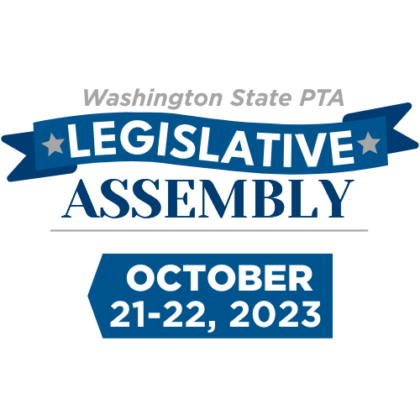 WSPTA held its 45th annual Legislative Assembly October 21-22, 2023. This virtual event was an incredible weekend of advocacy, education, networking, where delegates adopted several additions and updates to our 2023-24 Legislative Priorities and our permanent resolutions. The theme this year was school facilities, and we heard from guest presenters and panels on this important but often-overlooked topic that is crucial to student safety and learning. 
The assembly kicked off with a keynote from Washington's Superintendent of Public Instruction, Chris Reykdal, who talked about statewide challenges facing school districts, like enrollment decline and its recovery, and the continued needs for funding for student mental health and to provide services to students with disabilities. Superintendent Reykdal stressed the need to remove the 15% cap on funding under Special Education, to increase inclusive practices, and to have more equitable capital budgets to fund school facilities – all positions WSPTA strongly supports.  
Tyle Muench, Director of Advocacy and External Affairs at the Office of the Superintendent of Public Instruction (OSPI), gave a comprehensive but understandable overview of how school construction is funded in Washington, and information about several grant programs to make improvements to accessibility, modernization, energy efficiency, health, and safety of schools. He also said OSPI will request legislation to request voters amend the state constitution to lower the threshold to pass school construction bonds from the current 60% to 50%, a position PTA members have long held.  
In an eye-opening panel discussion, attendees heard from superintendents across the state about their experience and struggles funding necessary expansion, updates, and maintenance of school facilities. While the challenges may be different, the takeaway was that all districts – large, small, urban, suburban and rural – ALL face tremendous obstacles creating and maintaining the kinds of modern and safe school that all students deserve. Many thanks to the Superintendents who shared their time on a Saturday to increase our understanding: Tom Seigel of Bethel SD, Brian Freeman of Inchelium SD, Jon Homan of Lake Washington SD, Brent Freeman of Wahkiakum SD, and Kyle Rydell of West Valley (Spokane) SD. Both the superintendent panel and Tyler Muench's presentation are available for attendees to watch in Whova until noon on November 1. 
Even though this was a virtual event, attendees had multiple opportunities to network and learn with each other. Whova Communities were places of very active discussions on many topics, and there were both open-ended networking on Saturday and more targeted networking on specific advocacy topics on Sunday. 
Attendees also had multiple opportunities to increase their knowledge and skills around advocacy. 
Six recorded classes will be available to attendees until

noon on November 1:

Advocacy & Legislative Basics

 

Understanding the Legislative Process in Olympia

 

Easy Opportunities for Civic Engagement

 

Beyond the Basics 2.0

 

FACE, Advocacy & Membership

 

Understanding & Supporting Bonds and Levies

 

Education videos for each of the 8 proposed new or updated issues or resolutions that delegates considered were shared at the assembly and are also available on the

Issues and Resolutions Education Videos page

. Delegates were able to ask questions about each proposal, attend amendment writing labs, and submit amendments in advance. 

 
Sunday brought lively debate and voting on one new and one amended legislative issue, and six new or amended resolutions. There were 25 amendments submitted by our engaged delegates! Debate took longer than anticipated, and only the two issues and the first two resolutions and their amendments were debated fully. With time for the meeting running out, delegates voted to adopt the remaining four resolutions as presented. WSPTA regrets that 19 of the amendments were never presented for discussion and has reached out to discuss next steps with the submitters of those amendments. 
You can find the amended top 5 issue "Preventing and Reducing Gun Violence and Suicide", and the new also-supported issue "Multi and Heritage Language Education for All" on our updated 2023-24 Legislative Priorities and the Advocacy webpage.  
The six new or updated resolutions will be on our Resolutions webpage soon.  
Delegates also updated: 
1.9 Substance Use Disorder Education and Prevention

 

11.31 Social Emotional Learning and Student Success

 
New resolutions adopted were: 
Supporting a Diverse and Effective Education Workforce*

 

High-Quality Preschool to Third Grade Early Learning

 

K-12 Education Funding**

 

Traumatic Brain Injuries***

 
The following resolutions were retired and incorporated into those above, as indicated by the asterisks:
4.3

Excellence in Our Education System*

18.5

Funding for Basic Education**

18.9

Participation and Oversight in Education Budgets**

18.18

Reduction in Class Size**

18.26

Levies and Local Effort Assistance**

18.28

Increasing Revenue to Support Our Legislative Principles**

2.8

Bicycle Helmet Safety***

 
WSPTA would like to sincerely thank all of the attendees, especially the delegates, for their engagement in this process. Your passion for advocacy continues to be an inspiration! 
We would also like to remind you of some important dates: 
The deadline to submit new or amended resolutions for consideration at the business meeting of convention in May is noon on November 15, 2023. Find more information and the submission form on the Resolutions webpage. 
Save these advocacy dates: 
Thanks again to all the participants at the 2023 WSPTA Legislative Assembly, and to the many volunteers and WSPTA staff who worked hard behind the scenes!