Prepared by Marie Sullivan, legconsultant@wastatepta.org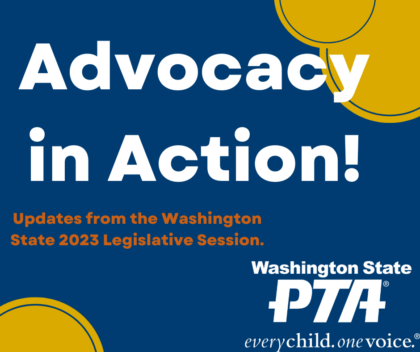 On Tuesday, January 17th, parent advocate Tanya Aggar asked House Education Committee members to pass HB 1109, which would encourage school districts to evaluate students for special education services and develop Individualized Education Plans (IEPs) prior to the start of the school year. As a parent of a student with disabilities, Tanya shared it took eight months for her son to be evaluated and he was half-way through 1st grade before getting IEP in place. Listen to Tanya's testimony here.
Continuing to champion common sense approaches to reducing gun violence, Dr. Gwen Loosmore ask legislators on the House Civil Rights & Judiciary Committee to "act now" on HB 1143 and HB 1144. As the Issue Submitter, at the January 17th public hearing she told lawmakers that WSPTA members are asking for legislation and policies that restrict dangerous access to all firearms, mandate safety training, and strictly regulate civilian ownership of firearms. Listen to Gwen's testimony here.