Dear Washington State PTA member,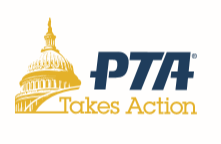 PTA members know that nutrition is essential to children's health and well-being, and that hungry children can't focus on learning. The USDA is currently taking public comments on a proposed rule change that threatens to leave tens of thousands of Washington State students without access to the free school meals they previously qualified for. Washington State PTA is asking you to take action by submitting a public comment asking the USDA to withdraw the proposed Revision of the Categorical Eligibility in the Supplemental Nutrition Assistance Program (SNAP).
Please feel free to customize the prewritten comment below, and go to https://www.regulations.gov/comment?D=FNS-2018-0037-0001 to leave your comment.
Thank you for taking action to support our children!
Nancy Chamberlain
Federal Legislative Chair
Comment to USDA:
I am a parent and a proud PTA member. PTA recognizes that good nutrition is essential to children's health and well-being. Federal nutrition programs such as the Supplemental Nutrition Assistance Program and school meals are vital to ensuring that all children can learn and thrive in school and at home. I appreciate the opportunity to comment on the U.S. Department of Agriculture's Notice of Proposed Rule Making on a Revision of Categorical Eligibility in the Supplemental Nutrition Assistance Program (SNAP). The proposed rule would cause serious harm to Washington state students and families and should be withdrawn.
Under current guidelines, states have the option to eliminate asset tests and use a higher income threshold to determine SNAP eligibility for working families with significant housing and childcare expenses. This current policy option is known as Broad-Based Categorical Eligibility (BBCE). The proposed rule would greatly limit states' ability to use BBCE, thereby eliminating SNAP benefits for 1.7 million households nationwide.
While the proposed rule failed to include the rule's impact on the School Breakfast Program and National School Lunch Program in its Regulatory Impact Analysis, reports indicate that the rule would jeopardize automatic access to free school meals for more than 500,000 students nationwide. Students whose households participate in SNAP are directly certified to receive free school meals. This rule change would mean at least 17,000 Washington state students could lose their school meals.
In Washington state, when about two-thirds of the student body is automatically enrolled in free meals, the Community Eligibility Provision allows that school to offer free meals to every student without collecting meal applications. If those eligibility numbers drop below the two-thirds threshold as a result of students losing SNAP, the school will lose the ability to provide free meals to everyone. This means the number of students at risk of losing free meals in the state has the potential to be much greater than 17,000.
SNAP plays a critical role in addressing hunger and food insecurity in our state and communities. By limiting families' access to SNAP and jeopardizing children's participation in school meal programs, the proposed rule would lead to poor health outcomes and diminished academic results among children and contribute to food insecurity in households in Washington and across the country.
SNAP is an investment in the future, as receipt of SNAP in early childhood leads to improved high school graduation rates, adult earnings, and adult health. The Federal Government should continue this investment in the future of our nation's children, and withdraw the proposed rule change.