Kicking off the 2017 budget proposals to resolve the "McCleary problem," Governor Jay Inslee released his education and revenue budgets today, with a request for $3.9 billion in total spending over the two-year budget cycle. In a Monday preview, staff indicated that nearly two-thirds of the funding would boost compensation for all educators and add professional development for teachers and para-educators.
At the top of the list is shifting the burden for compensation from local levies to the state. Inslee borrowed a page from the Technical Compensation Work Group that completed its recommendations in June 2012. The budget proposals start with increased salaries for beginning teachers, increasing the starting salary from $35,700 to $44,976 in FY18, and $54,587 in FY19. The salary bump would include 30 hours of professional development in the first year, and 80 hours of professional development in year two.
Also in the mix are:
Teacher and principal mentoring and alternative routes for teacher preparation.
Funding to close the opportunity gap, including investments in K-3 class size reduction; adding 1.0 FTE per prototypical school to support the addition of school counselors and nurses, social workers, psychologists, and family engagement coordinators; a $50 million increase to the Learning Assistance Program; truancy reduction; funding to support educational outcomes for students in foster care; and mentoring for struggling students.
Career-connected learning; $12.3 million for CTE MSOC; and additional funding for the highly capable students program.
The revenue side of the equation
To fund his education budget, Governor Inslee is proposing a tax on professional services, instituting a capital gains tax on high-income gains that is estimated to affect about 30,000 individuals, and a carbon tax. Inslee rejected an increase in property tax, or a property tax "swap" that has been suggested by others. In fact, according to staff, under the proposed levy and local effort assistance reform plan, taxpayers in more than 100 school districts where the levy rate is above 24 percent would see their property taxes reduced.
Take it to the levy
With the significant infusion of state funding for basic education, Governor Inslee has proposed holding local levies for 2018 at current law plans, which would mean allowing the levy lid to roll back to 24 percent, maintain grandfathered districts at their rollback level, and eliminate ghost money in the levy base. In 2019, the proposal would decrease all school district levies to 15 percent, would eliminate grandfathering and would not include ghost money in the base. The annual per pupil inflator would be dramatically increased, to 16.35 in FY18, and 21.4 PPI in FY19, ostensibly to avoid significant impact and the levy cliff.
Compensation phase-in
The education budget proposal would phase in the increases in compensation, based on the following chart: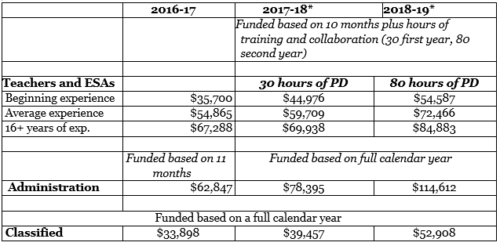 Beginning educator: $54,587 with Bachelor's degree; $58,954 with advanced degreeIn addition, the Salary Allocation Model (SAM) would be collapsed. The result would be:
2nd tier certification: $65,504 with Bachelor's degree; $70,745 with advanced degree
2nd tier certification and 10 years of experience: $78,605 with Bachelor's degree; $84,883 with advanced degree
For professional development, the Governor's budget proposes 30 hours for FY18, and 80 hours for FY19, which are included within the salary amounts in the chart and SAM above. Professional development would be 50/50 self-directed and district-directed. On the self-directed, the training would need to focus on social and emotional learning, cultural competency, and closing the opportunity gap. The district-directed training would not be legislated, but the proposed two-year spending plan would eliminate about $5 million currently appropriated for teacher and principal evaluation training, so any TPEP-related training would come from the district-directed professional development.
SPI-elect weighs in
In response to the Governor's spending request, Superintendent of Public Instruction-elect Chris Reykdal, who joined Inslee for the announcement, said, "This is an outstanding budget for public education. It's great for our kids, and is a solid plan forward. I'm excited to partner with Governor Inslee and the Legislature to fully, amply and equitably fund education."
Links to budget information:
Budget highlights
Education highlights
Governor's budget press conference
Marie Sullivan
WSPTA Legislative Consultant
LegConsultant@wastatepta.org