Membership Impact. Powered by PTA.
Thanks to National PTA for compiling data on the overall impact of PTA on schools and students across the country! Many leaders have been struggling with how to share the value of PTA when we cannot host our traditional events and activities. Please share some of these graphics with your community to show how important it is to support PTA.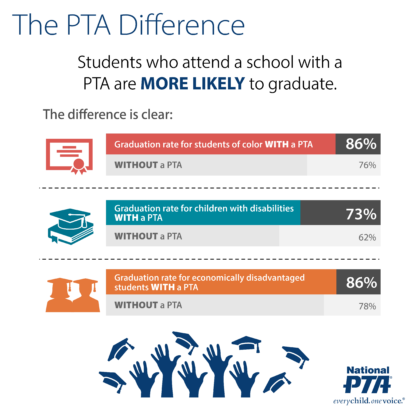 While it's difficult for a kindergarten parent to think about graduation rates, those same parents do think about the quality of education when choosing where to rent or buy their homes. Graduation rates for students of color, students with disabilities, and economically disadvantaged students are all significantly higher in schools with PTAs. Parents can make sure that they keep PTAs in their children's schools by supporting them through membership. Without members, your PTA will go away.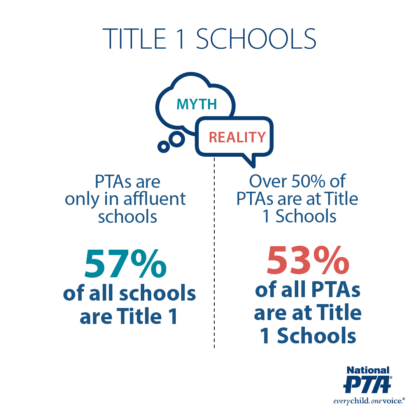 Use the graphics to educate your community members. It is a myth that PTAs are only in affluent schools!  57% of all schools are Title 1 and 53% of all PTAs are found in Title 1 schools. Local PTAs and councils can use this information to show how PTA is making a difference for all students by bringing programs, books, and technology to their schools. PTAs do not need to be in affluent communities to make a positive impact on student success!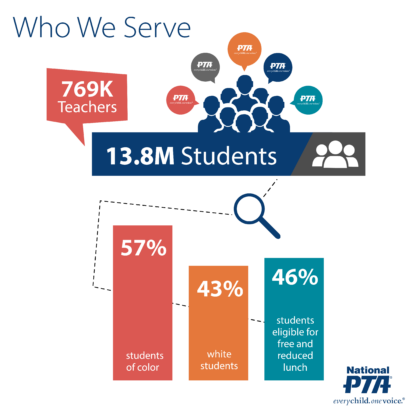 There are PTAs located in every state in the USA, Puerto Rico, the US Virgin Islands, and at the DoDEA schools in Europe to serve our military families. Last year, our PTAs served 769,000 teachers and 13.8 million students worldwide! Of the students served, 57% were students of color, 43% were white students, and 46% of the students were eligible for free and reduced lunch. Why is this important? Refer back to the first graphic that shows how PTA is improving graduation rates for three key populations. Click here for more information about where and who we serve and the positive impact PTA has on students.
Guest post by Kim Kuhne, WSPTA Membership Director