Advocacy Week kicked of on Monday, January 29, with the annual WSPTA Focus Day, a day for members to come to Olympia. More than 50 advocates, from Arlington to Vancouver, met with legislators, delivered postcards from members not in attendance, and distributed the 2018 WSPTA Legislative Priorities. WSPTA President Michelle Nims, Legislative Director Nancy Chamberlain, Executive Director Kathryn Hobbs, and Legislative Consultant Marie Sullivan met with key Senate Committee chairs and leadership, and Lt. Governor Cyrus Habib to discuss WSPTA priorities around ample funding, family engagement coordinators, and post-secondary success.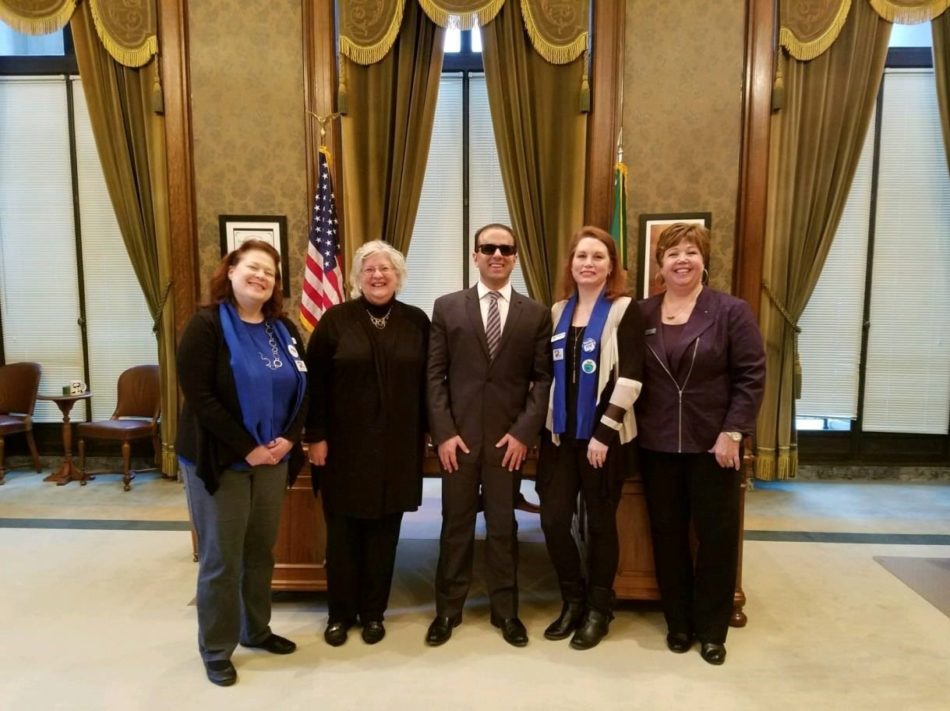 Focus Day attendees even testified in four public hearings on WSPTA-supported bills. Northshore Council President Carrie McKenzie gave testimony on SB 6148 and 6223, which address improving educational outcomes for youth who are homeless or in foster care.
Shoreline school district PTA member Sara Betnel and her daughter testified on SB 6410 concerning School Safety.
Seattle Council President Sebrena Burr and WSPTA Region 6 Director Sherry Rudolph, both on the right, were able to meet with legislators and testify in public hearings during Focus Day.
Sebrena Burr, testified on HB 2927, concerning equitable identification practices for highly capable programs.
Sherry Rudolph testified on SB 6531, concerning the School Construction Assistance Program.
During the rest of Advocacy Week, WSPTA used Voter Voice action alerts to connect members from all over Washington to their legislators on 5 priorities: Ample Funding of Basic Education, Addressing the Teacher Shortage, Social Emotional Learning, Post-Secondary Success, and School Construction Assistance. Members sent over 600 emails to their legislators on these priorities during the week.
Thank you to all the PTA members who took the time to speak with legislators in person or contacted them via email through Voter Voice. You gave voice for all our members and represented the needs of 1.1 million students. That is PTA in action!