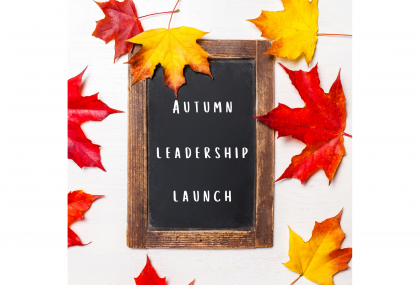 It's time to celebrate a successful introduction of the first-ever virtual Autumn Leadership Launch (A.L.L.)! Many thanks to all who attended and volunteered. Registration exceeded what we had anticipated. Between attendance and the number of views of recorded sessions, this proved to be a popular training option for leaders statewide. If you missed it this time around, never fear! Autumn Leadership Launch will be back in the Fall of 2022! 
A.L.L. is similar to WSPTA's spring Convention in that it provides statewide WSPTA-approved training with choices of classes. However, there is no official WSPTA business conducted or voting – it's solely an event for training and making connections. This year in particular, a fall conference was helpful in providing training for new officers only recently elected.  
We do have locations around our state that are fortunate in having seasoned leaders and training consistently available. While that is wonderful, we also have several locations around our state where leaders are being developed, and training opportunities are scarce. To increase equity and accessibility to ALL leaders statewide, the idea of a virtual training event in the fall was born. Thanks to COVID-19 for that change in our thinking and the crash course in Zooming that took the world and our PTAs by storm! It is so much more accessible financially and time-wise for a local PTA leader to attend a virtual WSPTA training in the fall! 
The introduction of this statewide fall training will not replace trainings your Region Directors or Council leaders choose to do locally. After A.L.L., they are still encouraged to offer training throughout the year to their local leaders. However, I will say, as a former and currently acting Region Director, I have appreciated having the task of planning several different fall trainings taken off my shoulders at the end of my summer and the beginning of the school year.  
I, too, am a volunteer and have a child in school and extra-curricular activities. I'm sure many of you can relate to how busy the beginning of a school year is! Add to that mix planning several in-person (or even virtual) trainings with different classes and speakers. It can be a lot to juggle. What I've been enjoying instead is finding a way to do networking events with my local leaders. As in-person trainings aren't possible in many areas with schools still being closed to volunteers, outdoor park meet-ups seemed a great way for me and my Service Delivery Team to see people in person while following changing COVID protocols.  
I am still holding several events around my regions, but scheduling my PTAs in the Parks has been much easier than formal region trainings. I will continue my monthly leader Zoom workshops beginning next month now that A.L.L. has concluded and the urgency of a new school year has slowed a bit. However, I have to say I've been enjoying the flexibility A.L.L. provided me this fall in trying my idea. I've heard from my leaders, shared ideas, and we've just gotten to know each other. With some adjustments, I plan on continuing these in the future!  
Be sure to talk to your PTA about adding A.L.L. to your budget next year. My fellow region and council leaders, I look forward to our brainstorming ideas for better connections with our local leaders as we take advantage of this new virtual training. I love being a part of one PTA with you all, working together to build each other up so we, as leaders, can make every child's potential a reality! 
Guest post provided by Tori Emerson, WSPTA Area E Vice President