Guest post by sponsor, Cheddar Up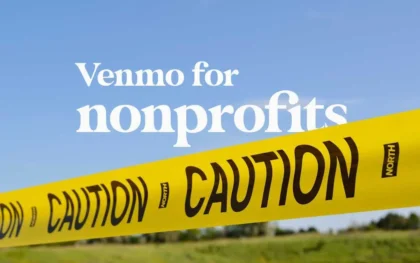 A very buzzy topic among parent groups is: "Can PTAs use Venmo?" The answer is layered: Yes, you could. It is available to you. But should you use it? Our recommendation is no.
And it's not simply because we offer an alternative — it's because Venmo isn't developed to serve groups, especially those with mandatory reporting, so it lacks features to best support nonprofits. In short, Venmo is a peer-to-peer (P2P) platform, so its primary role is exactly that — transactions between two individuals for personal means, like paying a friend back for dinner. (In full transparency: We love Venmo for this reason! We're very clearly #TeamOnlinePayments.) To dig deeper into the technology side, check out this blog post.
Here, we'll look at a few specific features to pinpoint why Venmo isn't great for your PTA.
5 Key Reasons to Reconsider Using Venmo for PTA Funding
Venmo doesn't allow nonprofit usage. It's right on its website: "Venmo's peer-to-peer experience cannot be used to solicit or collect charitable contributions…" But how will they know? That's the thing: They don't have to for sure. Venmo can freeze your account based on sheer suspicion, which leaves access to your funds entirely up to Venmo's discretion. Funding is a lifeline for PTAs, so not only could the loss jeopardize your organization, but also parents who trust you to steward their money. Is it worth the risk?
Venmo doesn't provide tax receipts. The IRS requires nonprofits to send a receipt for all donations above $250, and donors need printed or emailed confirmation of a charitable contribution to claim it. Failure to comply can compromise your 501(c)(3) status. Although Venmo records transaction history, it doesn't include IRS-required information. (We'll refer you to the experts for details on all of the above.)
Venmo accounts are connected to one individual. To sign up, you need a phone number, email address, and bank account. Your PTA has all of these — all set, right? It's a little murkier than that. First, to repeat No. 1, Venmo does not allow nonprofit usage. To skirt this rule for convenience likely just complicates things: You leave only one person with the account credentials and access to your money, which counters the transparency ethics that PTAs operate on. Not to mention, PTA boards rotate, so your point-person won't always be your point person. The consistent sharing of login credentials could invite fraudulent activity. Venmo does have business accounts, but even those must be created under one personal profile, leaving the same concerns at play.
Venmo limits weekly spending and withdrawals. In general, people can spend only $299.99 per week* on Venmo. Even if that seems more than enough for your PTA, it may limit the types of fundraisers you can conduct. In addition, the max you can transfer out of Venmo to your bank account is $999.99 per week.* If you verify your identity, that increases to $19,999 per week.* But if you receive significant contributions, this could impact your accounting. (*Amounts as of August 2022)

Tracking and reporting payments are cumbersome. Venmo's endless-scroll "feed" interface means sifting through each payment to attempt to categorize them. It's easy to miss, or mistype, payments this way. And you may not even be able to identify all the payments. Think: a check's blank memo line. You can ask people to include payment details on Venmo, but inevitably, some forget. As a nonprofit, it's critical to account for every dollar received to help prevent concerns over unrelated business income.
Why Cheddar Up Is an Ideal Alternative to Venmo for PTAs
One key distinction: We created Cheddar Up specifically with parent groups in mind, so from the start, we've developed our platform with your needs (and minimal time) in mind. We also do not impose any limits on how much you can collect or withdraw. Below are just a few features that stand out.
We're truly just scratching the surface. For a deeper dive into how Cheddar Up serves PTAs — rave reviews included — click here.