Governance. Powered by PTA.
The 2019 Washington State PTA nominating committee hereby places the following names into nomination: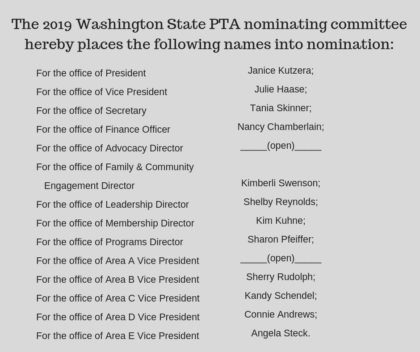 The nominating committee has confirmed that all nominees have been a member of a PTA for at least 15 days prior to the election, and meet other requirements as stated in the WSPTA Uniform Bylaws.
Respectfully submitted,
Teri Davis
Andrea Plagens
Monika Scotti
Sara Wendell
---
Please share this information with your members
---
Self Declare Window Now Open
The 15 day window for self declaring is now open. All information is due no later than 11:59pm February 8, 2019.
He/she is a current PTA member.
He/she meets the qualifications for the office.
He/she shall abide by the campaign/election policies and guidelines.
In addition, per policy section 7.4.2, each declared candidate shall provide the following no later than 15 days after the nominating committee report is posted:
a statement, not to exceed 150 words, to be included in the convention program and on the campaign board.
a statement, not to exceed 500 words, to be posted on the WSPTA website.
a digital photo to be used in convention materials (i.e. program, website, etc.)
a one-page (8 1/2″ x 11″) résumé, to be posted on the candidate's page on the WSPTA website.
Upon receipt of the Declaration of Good Faith form the WSPTA office shall send Elections Oversight Committee (EOC) information, campaign regulations and any other requirements to all candidates.