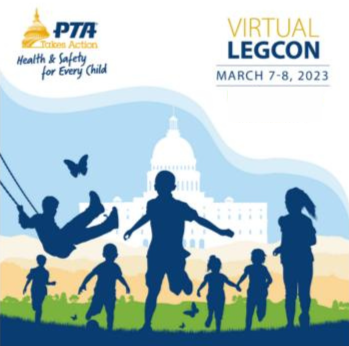 Prepared by Susan Baird-Joshi, Federal Legislative Chair, WSPTA
Fifteen WSPTA members met with five members of Congress (MOC) on March 8, 2023, including the first woman President Pro Tempore, Senator Patty Murray. Other MOCs our delegation met with were Representative Suzan DelBene (WA-01) and staff, and the staff of Senator Maria Cantwell, Representative Pramila Jayapal (WA-07) and Representative Kim Schrier (WA-08).
All MOCs supported action on our issues—gun violence prevention and funding the Individuals with Disabilities Education Act Part B (IDEA)—including co-sponsoring some of PTA's bills and working on IDEA funding.
Our WSPTA members told stories of family tragedies due to gun violence in the home and at school and of staff and equipment shortages in special education. One parent volunteer who uses a wheelchair, said her school told her to not come to school on the safety drill day because the school didn't think it could evacuate her safely from the school. Senator Murray immediately asked, "What about the kids?"
Senator Murray is Chair of the Appropriations Committee, and Representative DelBene is on the House Ways and Means Committee. Senator Cantwell is Chair of the Senate Committee on Commerce, Science and Transportation. Representative Jayapal serves on the House Education and the Workforce Committee. Representative Schrier serves on the Health Subcommittee for the House Energy and Commerce Committee.
WSPTA volunteers and staff created action alerts for Hill Day and are creating blog posts with photos from our Hill Day experiences. Finally, we're reaching out to WSPTA members in other Washington Congressional districts about setting up similar meetings. If you'd like to arrange a meeting with your MOC or help with federal advocacy, please contact me to get started.
WSPTA Action Alerts for Hill Day are open through March 22:
Federal Action Needed to Prevent and Reduce Gun Violence and Suicide
Federal Action Needed to Address Funding, Inclusion, and Supports in Special Education
For more resources about NPTA's Asks for federal legislation, please visit NPTA's web site.