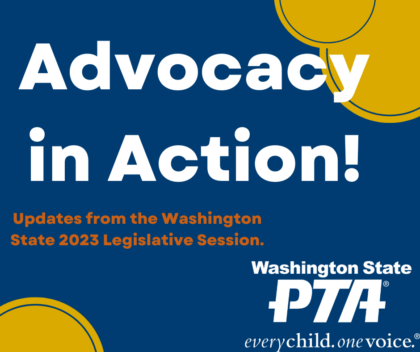 The House Education Committee on Monday, February 6 was a busy place for WSPTA testifiers!
Parent advocate Tori Emerson shared her experience as a beginning teacher with House Education Committee members while supporting HB 1565, strengthening the professional education workforce. Listen to Tori here.
Speaking in favor of adding another graduation for high school pathways using a performance exhibit to demonstrate a student has met learning standards in English Language Arts, Math or other core subjects, past WSPTA president Michelle Nims urged House Education Committee members to support HB 1308. Michelle's testimony can be found here.
Advocacy Committee member Natalya Yudkovsky shared support and a few requests for amendments when addressing the House Education Committee February 6th on HB 1658, a bill that would allow paid work to count as high school credit. Natalya's testimony is here.
Over in the Senate Early Learning & K-12 Education Committee, WSPTA Advocacy Director Lizzy Sebring did double duty on February 6, testifying on two bills.
Testifying Pro on SB 5559, concerning restraint or isolation of students in public schools and educational programs, Lizzy asked the committee and bill sponsor to consider a few amendments to clarify definitions used in the bill and ensure school districts are provided with ample funding to ensure all staff, including substitutes and those who transport students to and from school, receive training so that all students and staff can be safe at school. Lizzy's testimony can be found here.
Lizzy also weighed in as Pro on SB 5626 – expanding and enhancing media literacy and digital citizenship in K-12 education. Listen to Lizzy's testimony here.